Visit of Belém and Cascais in 1 day
Our road-trip to Lisbon continues after our visit of Lx Factory and Cristo Rey This time a little further on, just by taking the tram to Belém and then the train to Cascais we will make you discover these two must-see cities during your visit around Lisbon in one day. We will show you the best things to do in Belém and Cascais :
You are probably wondering if it is difficult to reach Belém from Lisbon, in fact no it is very easy and fast to get to Belém thanks to the Lisbon transport network. Here are the different possibilities to get to Belém:
🚉 En Train avec la ligne en direction de Cascais liaison en 7 minutes (toutes les 20mn)
🚌 En Bus avec la ligne bus 728 Lisbonne Belém ou la 714 en 9 minutes
🚎 En Tram avec le Carris 15E comptez presque 25 minutes


The most practical is undoubtedly the bus 728 but it is pleasant to take the yellow Tram for the efficiency of this mode of transport.
To begin before discovering Belém, you need to know where the name comes from. It is a distortion of the word Bethlehem and you will see that in Portugal the close link between the church and the population is well established. But the most important aspect of Belém is above all its orientation towards the sea with these great sailors who left from here to go and discover new worlds as the monuments to be discovered testify. <Here is our guide to things to do in Belém:
From Belém station, start your walk along the Tagus on your left until you reach the Monuments aux découvertes. It is 56 meters high. It was built in 1960 as a tribute to the discovery of new territories by 32 great explorers with at the end a great explorer Henri the Navigator 9 meters high holding the model of the ship "Caraque" in 1394. You can take the lift to the top with a view of the harbour.
Opening of the monument to the discoveries from March to September from 10am to 7pm, from October to February from 10am to 6pm.
Admission to the monument costs 5€.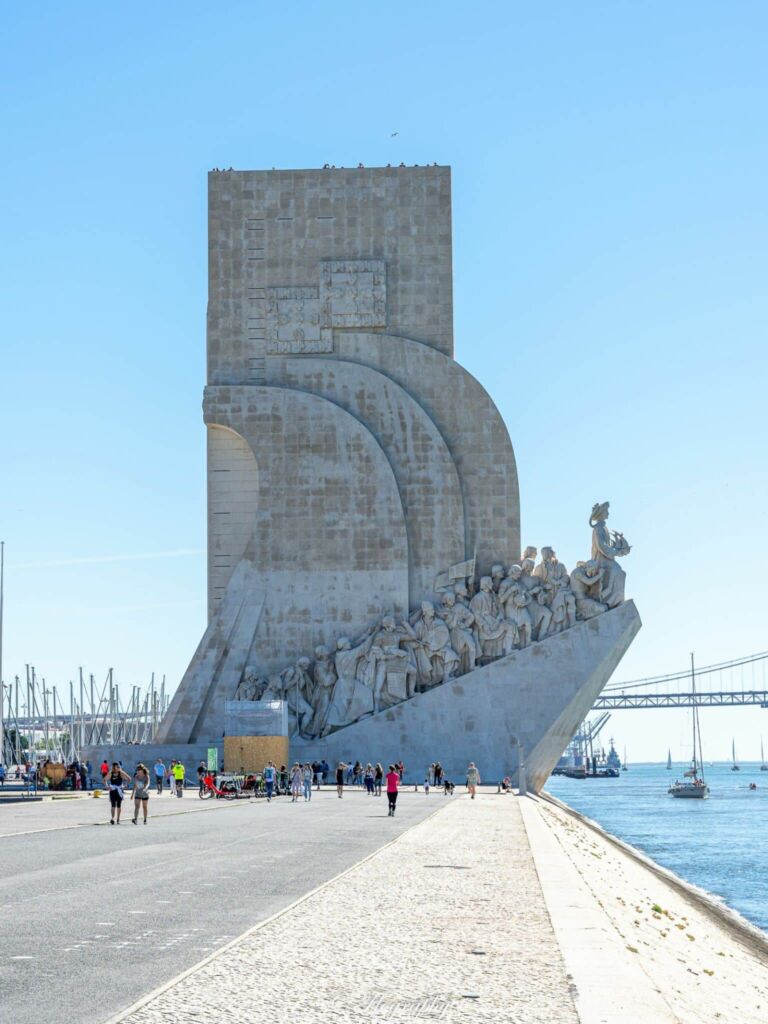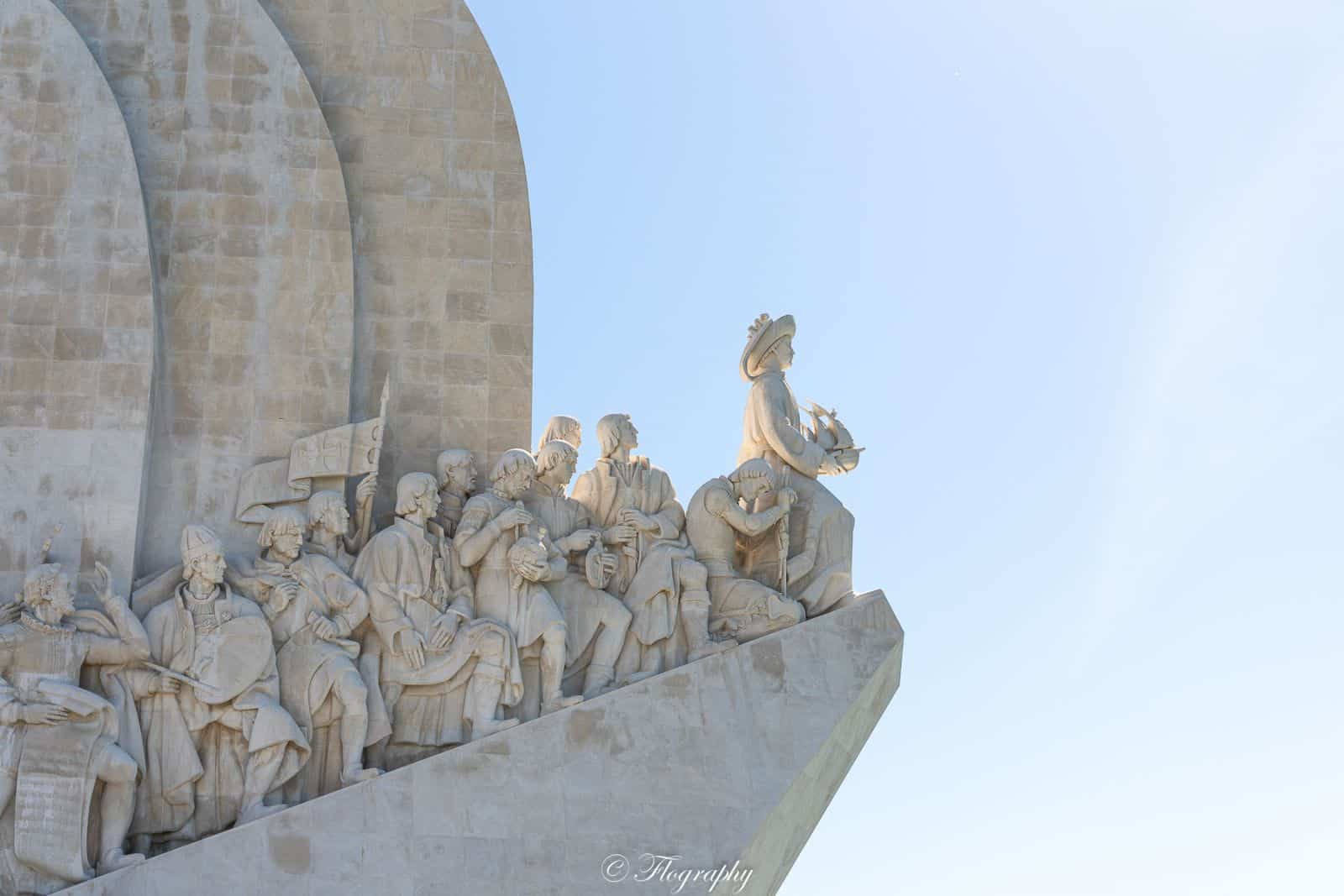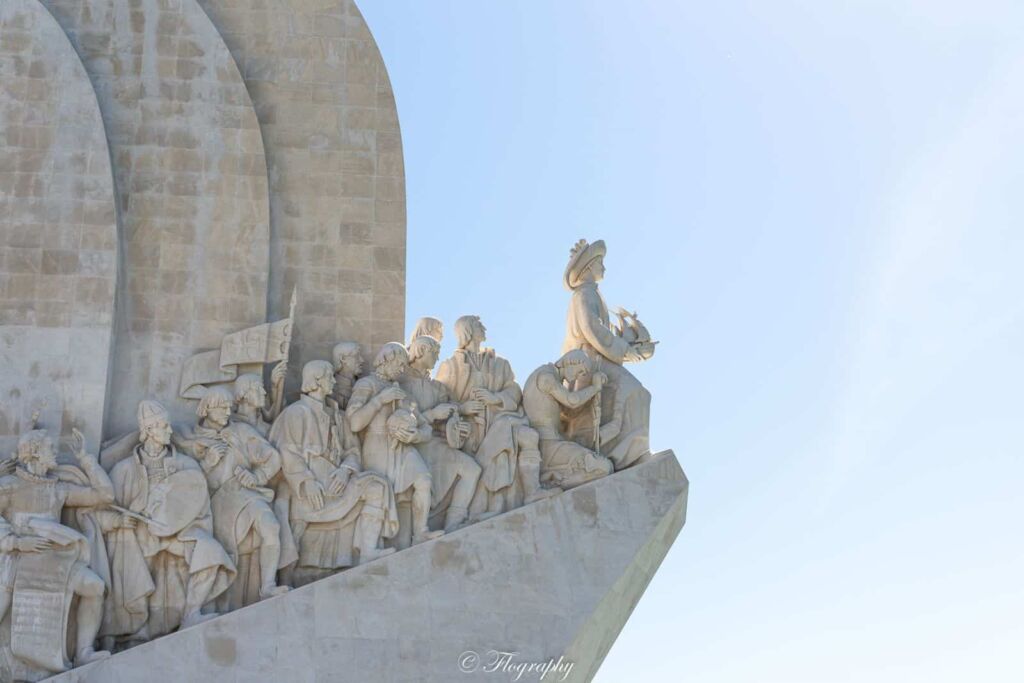 It dates from 1514, and is a real defensive tower that could fire its cannons on enemy ships. Elle date de 1514, et c'est une véritable tour de défense qui pouvait tirer avec ses canons sur les navires ennemis. 

We did not visit the interior, it deserves only the visit from the outside with a tower surrounded by the Tagus where only a small pontoon connects it to the land.  If you do the interior visit you will have a breathtaking view from its terrace at the top of the Tower.
Open from October to May from 10 am to 5.30 pm, from May to September from 10 am to 6.30 pm. Closed on 1 January, Easter Sunday, 1 May, 13 June and 25 December. 
Entrance to the monument costs 6€.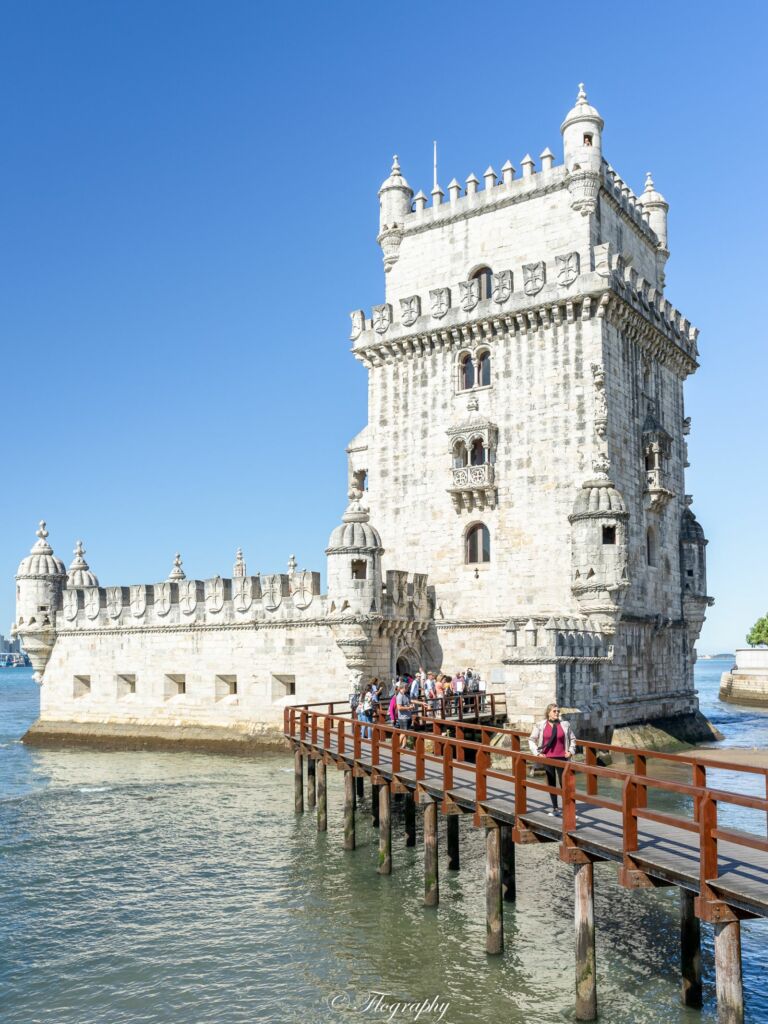 The monastery of the Hieronymites as well as the Tower of Belèm are the emblem of the UNESCO World Heritage in 1983.  If you did not visit the Tower of Belém right after opening, then visit the monastery first when it opens. The queues are impressive.
It was built as early as 1501 to protect sailors and explorers praying before setting out on their long journeys.
On two levels, the architecture is magnificent with drawings carved in stone like an embroidery of lace. Inside the church, don't miss the tomb of Vasco da Gama.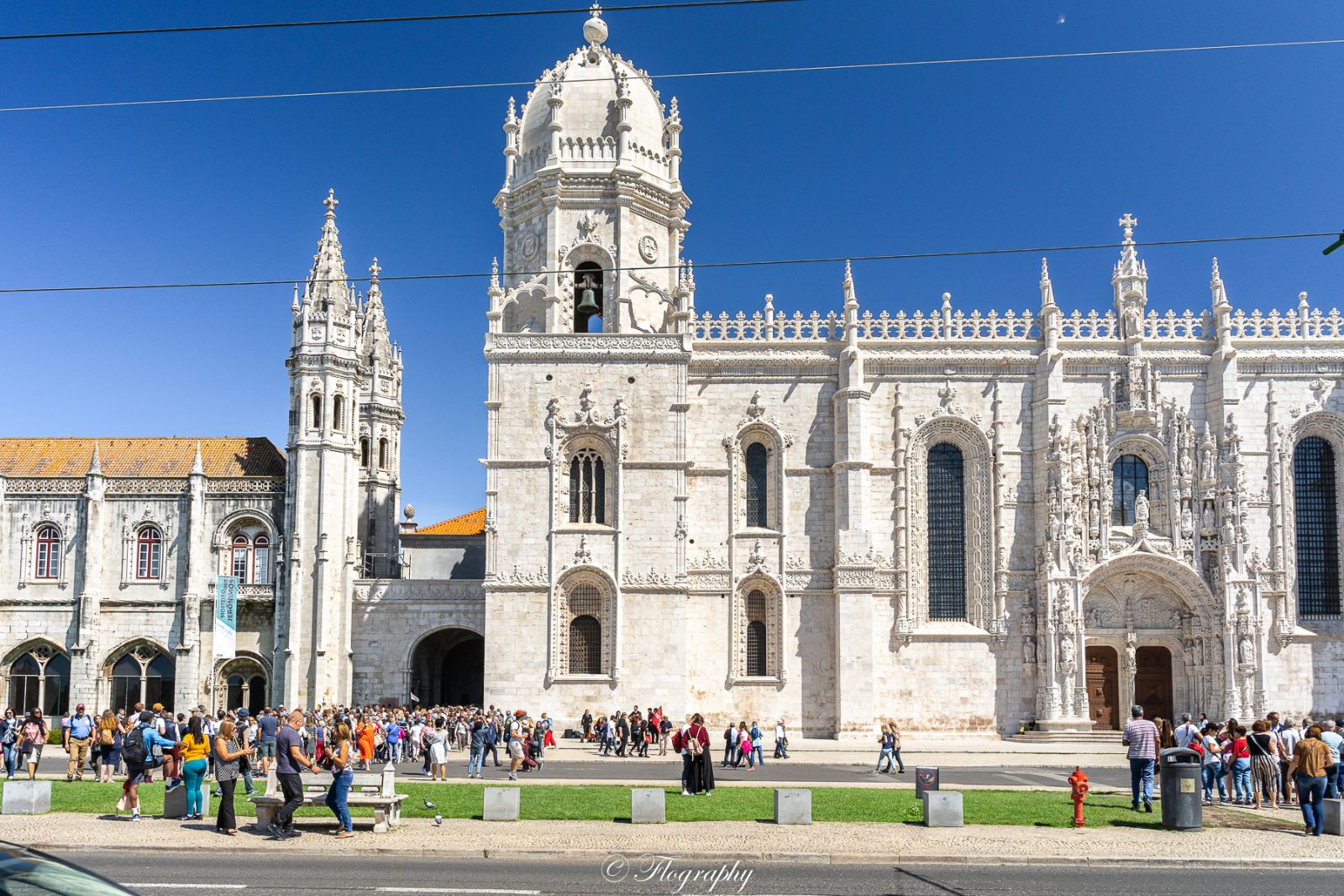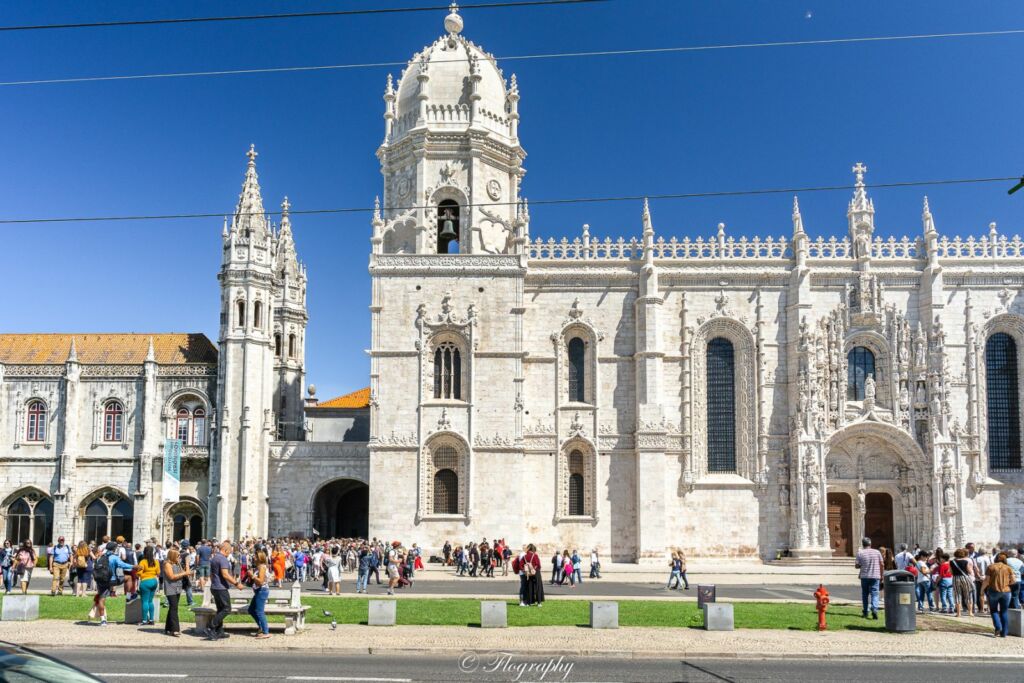 Open from October to May from 10 am to 5.30 pm, from May to September from 10 am to 6.30 pm. Closed on 1 January, Easter Sunday, 1 May, 13 June and 25 December. 
Entrance to the monument costs 10€.
Strolling in the Vasco da Gama Garden
What could be better than strolling along the Tagus and passing through the Vasco da Gama garden to reach the monastère des Hiéronymites.  We appreciate the walk in this park full of flowers with statues, its beautiful fountain and the view over the bridge of April 25.

Our surprise was to see a Thai temple the Pavilhao Sala Thai Royal gift from Thailand to Princess Maha Chakri Sirindhorn in appreciation of the 500 years of trade relations between the two countries.  It is the first Portuguese mission to maintain contact with Thailand, the only kingdom in South East Asia that has never been colonized.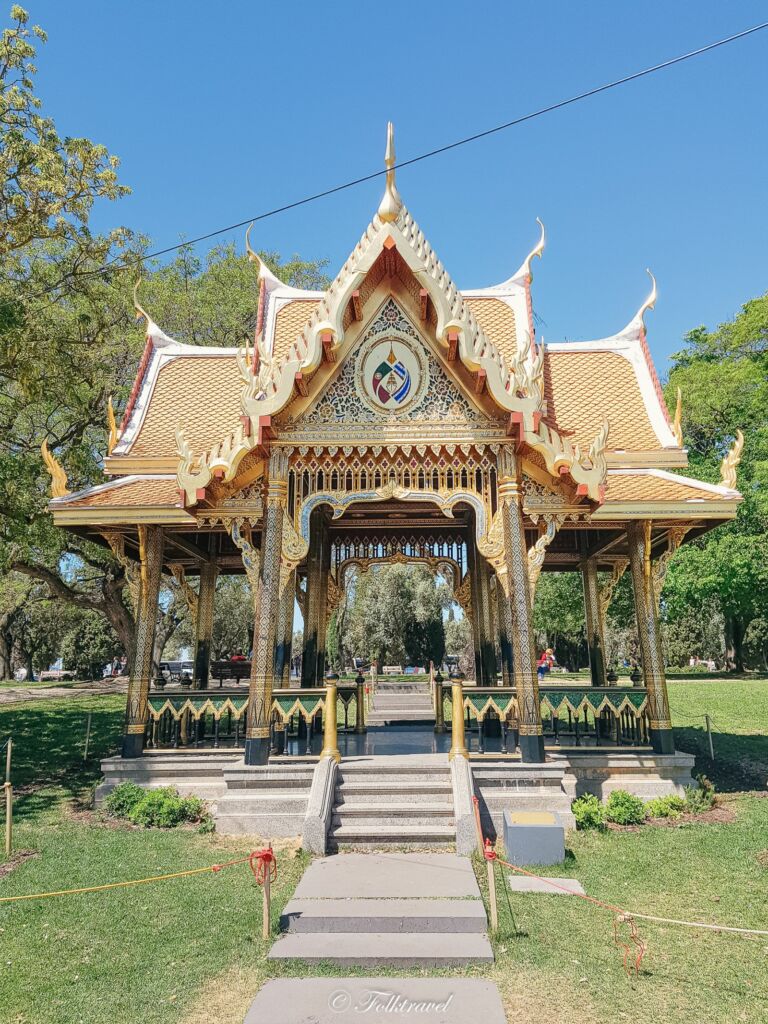 Taste a Pastel of Nata in Belém
This is the unmissable moment of Belem, in the main street you can't miss the famous pie of Portugal : Pastel de nata. Go to the authentic pastry shop of Belém.
How do we find her? It is next to the monastery and you will see there a long line of people waiting to get there. The front is blue and it says: Pasteis de Belém. Inside there are a few tables, but it is pleasant to take the pastel de nata and go and taste it in the garden.
For our part, if you followed us in our visit of Lisbonwe enjoyed the tasting in an award-winning pastry shop.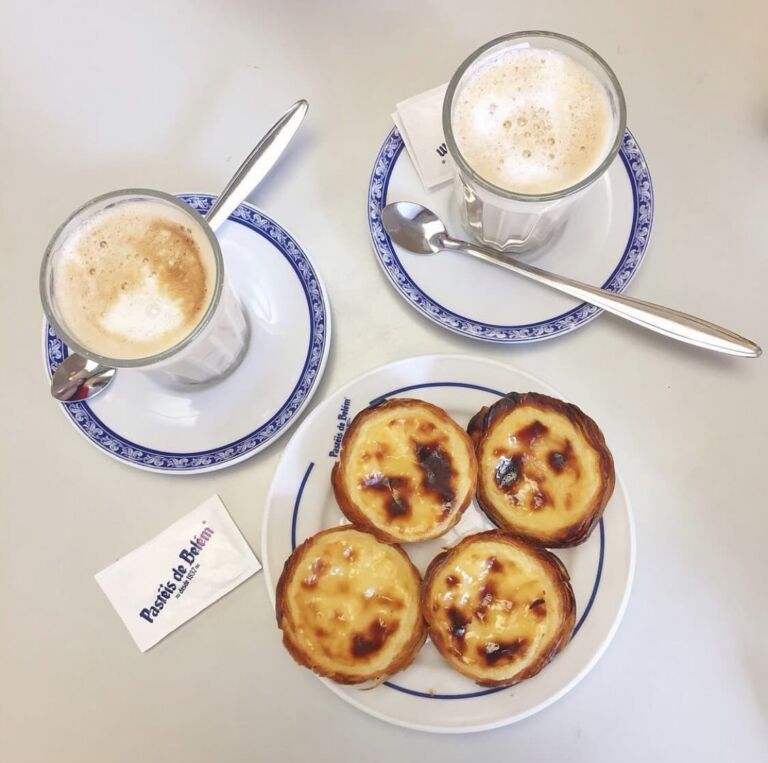 Cascais organizes many professional events. This place could not go unnoticed during our road trip, especially after our successful escapade in Belém. If you wish to reach Cascais from Belém you will have to take the train with the line 19001, count 30 minutes for less than 2€. or 40 minutes from Lisbon.
The bay of Cascais abounds in magnificent beaches because it is protected from the ocean's waves.  Just at the edge of these beaches beautiful 9km long walks are pleasant to enjoy the sea air. You will love to dive into this crystal clear water and put your towel on the golden sand.
You will have understood it, Cascais is a seaside resort reputed by the aristocracy of the 19ᵉ century as the place of predilection to rest there.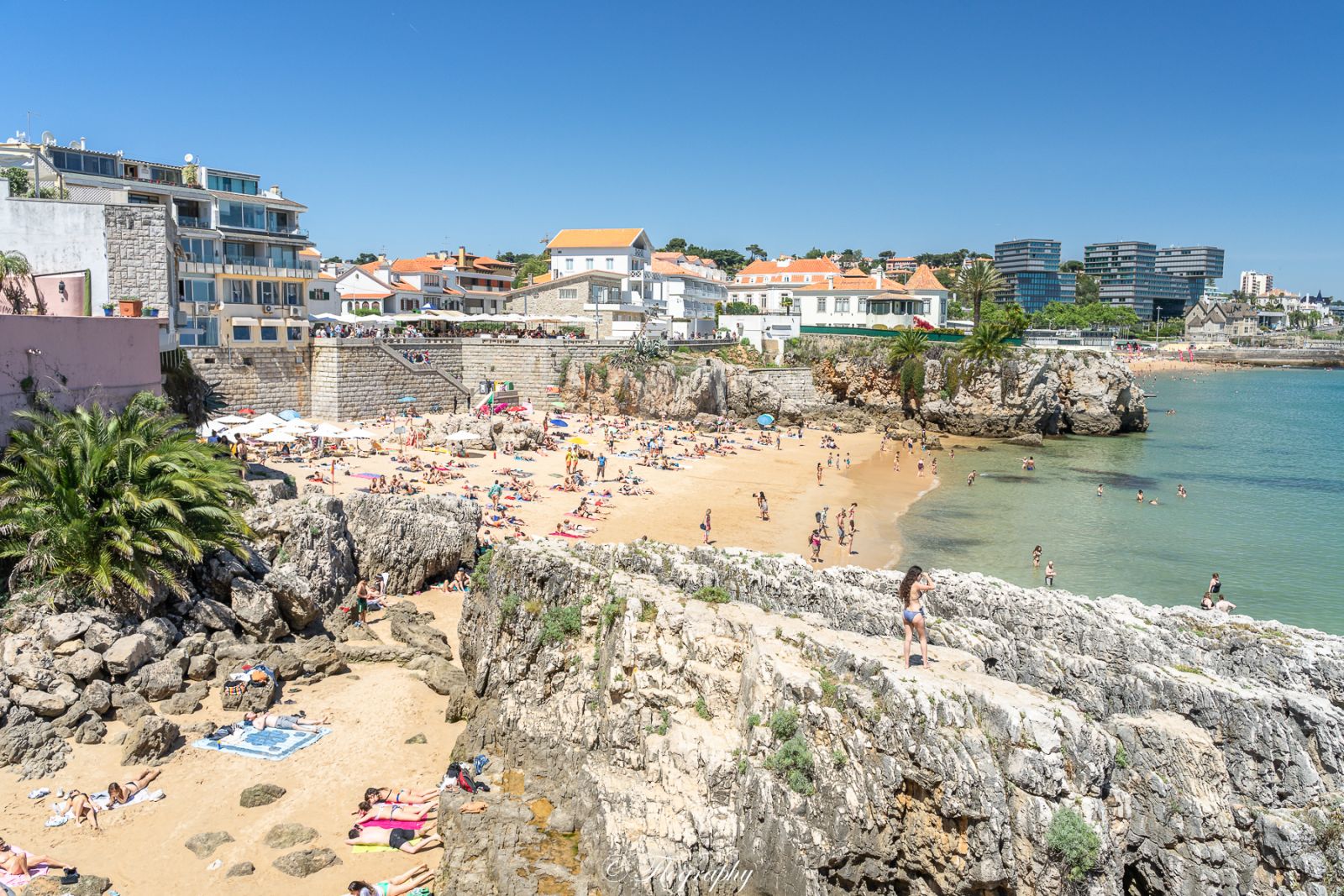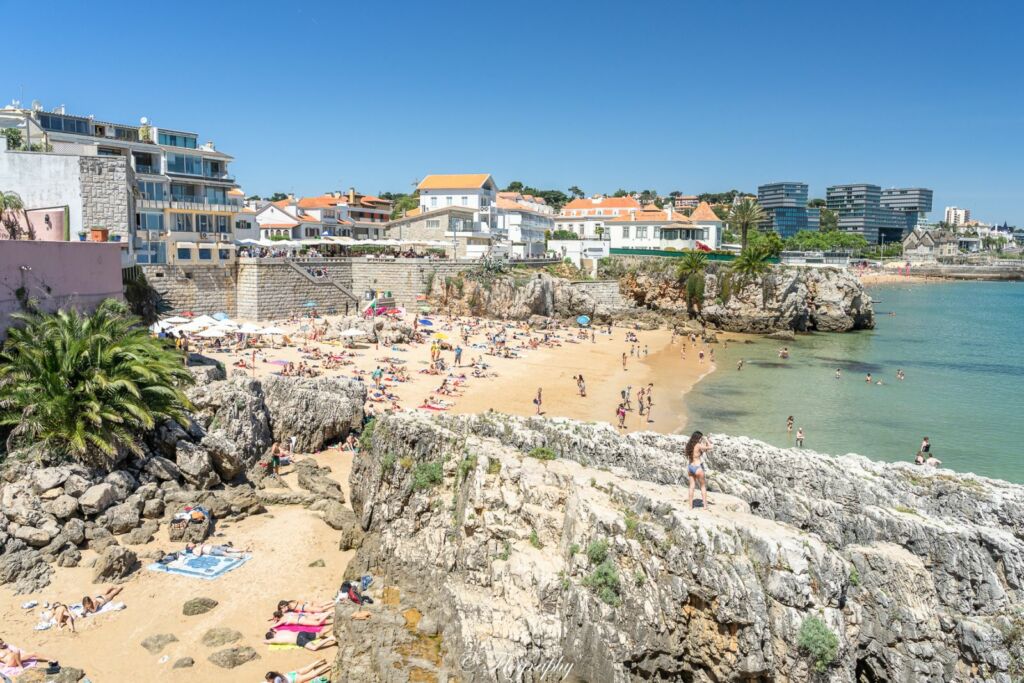 Discover the streets of Cascais
During our visit, we were lucky to have beautiful and very warm weather in Cascais, ideal for a stroll in the city centre of Cascais.  Pastel-coloured shop fronts, wrought iron balconies with pedestrian walkways and flowers on the balcony make Cascais this fishing village a pleasant place. One likes to get lost in its alleys.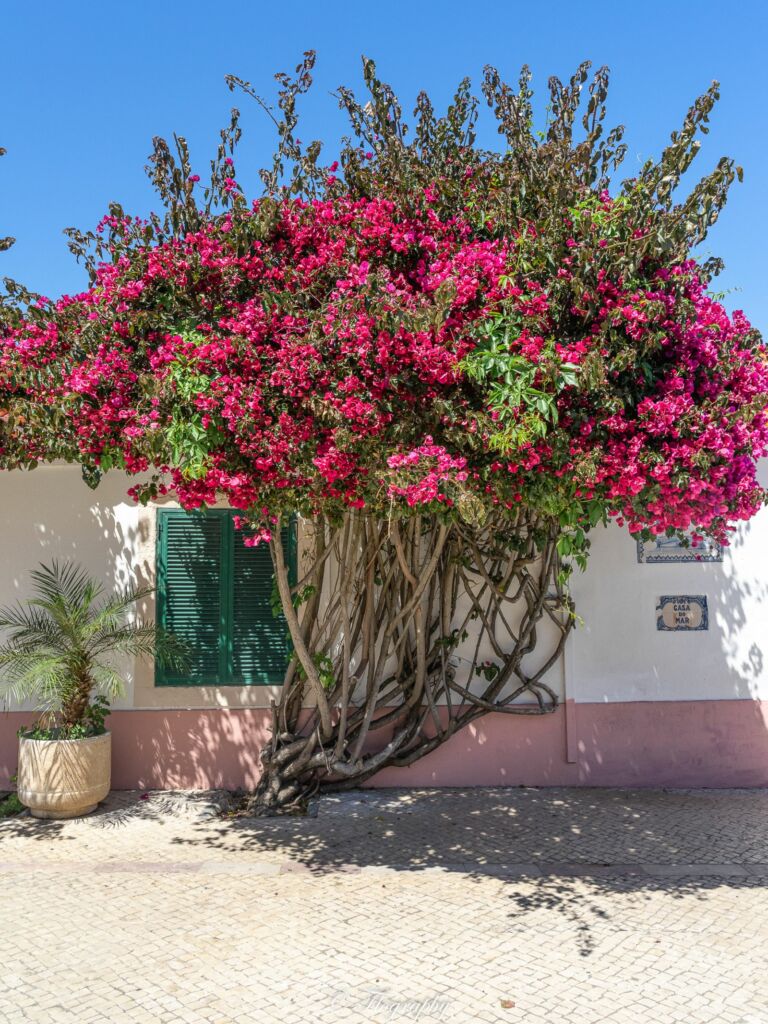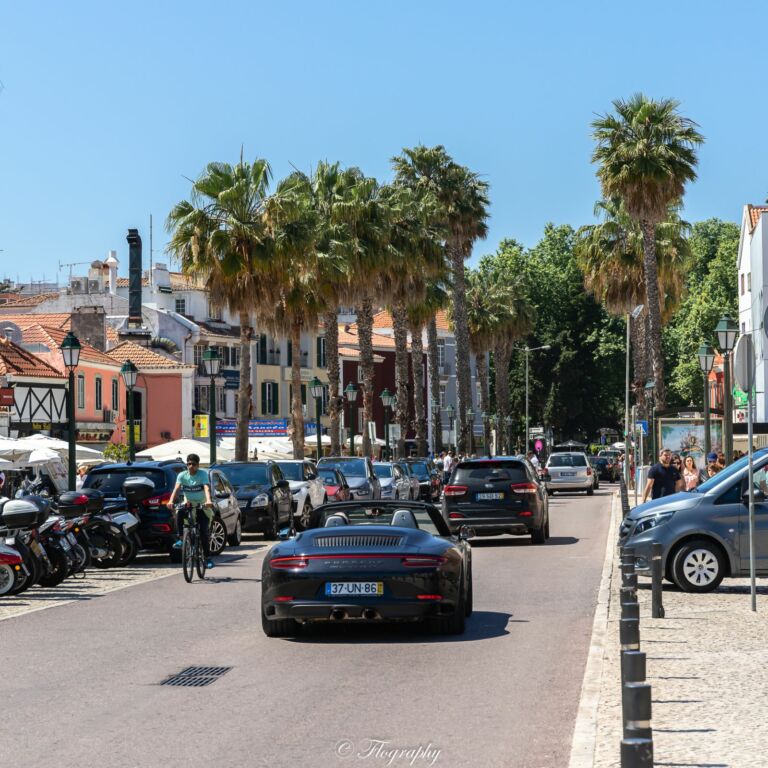 A beautiful atypical lighthouse in Cascais - Santa Marta
Let's continue our mop at the western end of Cascais, with this pretty lighthouse from the 19ᵉ century: Farol de Santa Marta which now fulfils its role as a museum. Just next to it you will see the Casa de Santa Maria, a magnificent villa that belonged to rich Portuguese industrialists. Admission is free.
At the back is the Marechal Carmona ParkA very pretty large park where peacocks and roosters are free to roost and where it is pleasant to picnic: both young and old will be amazed. You will find a building with azulejos on its facade.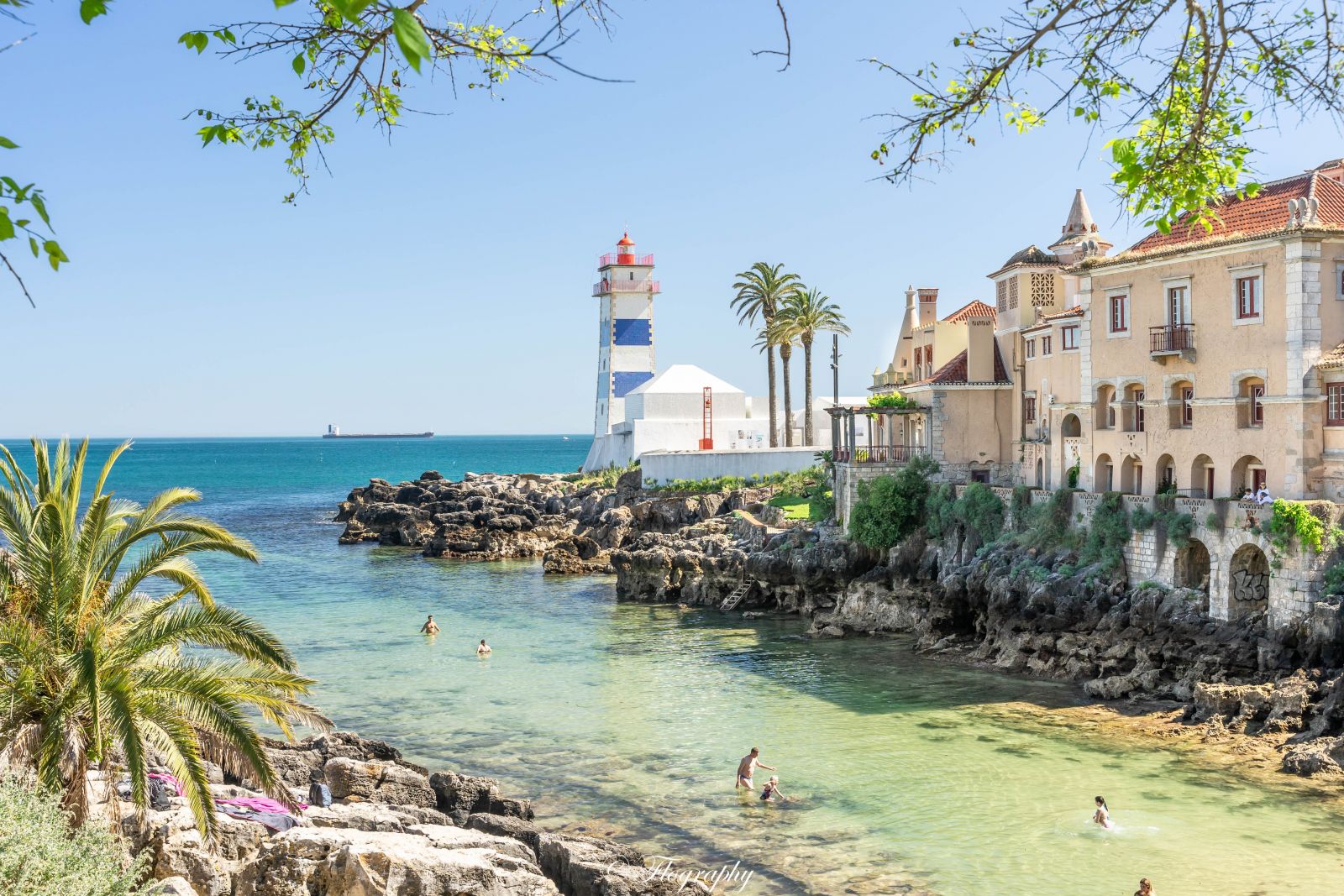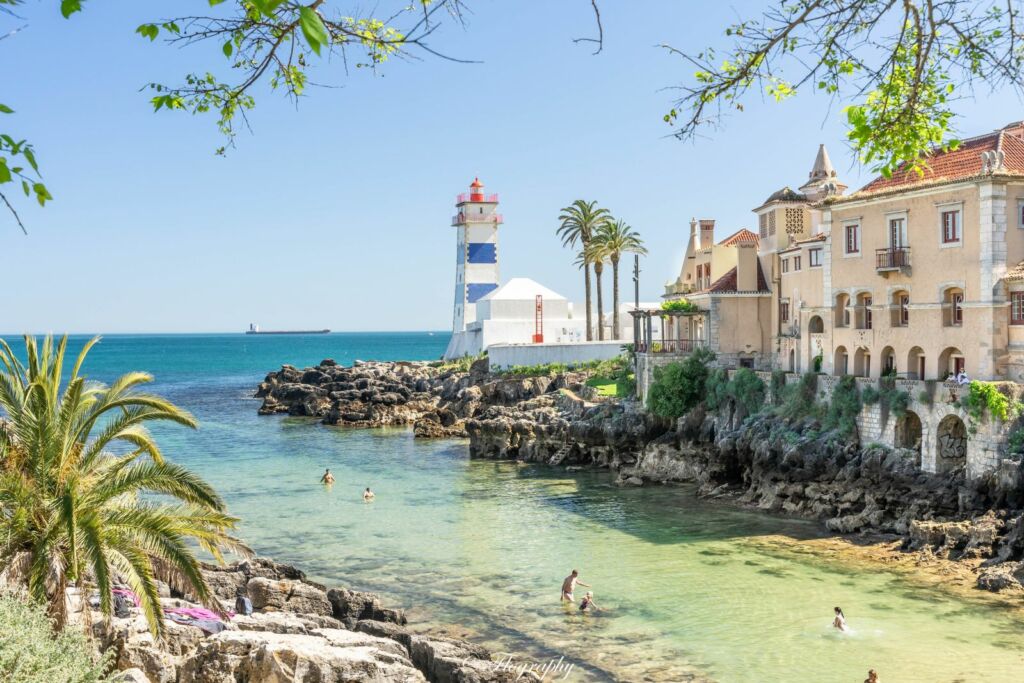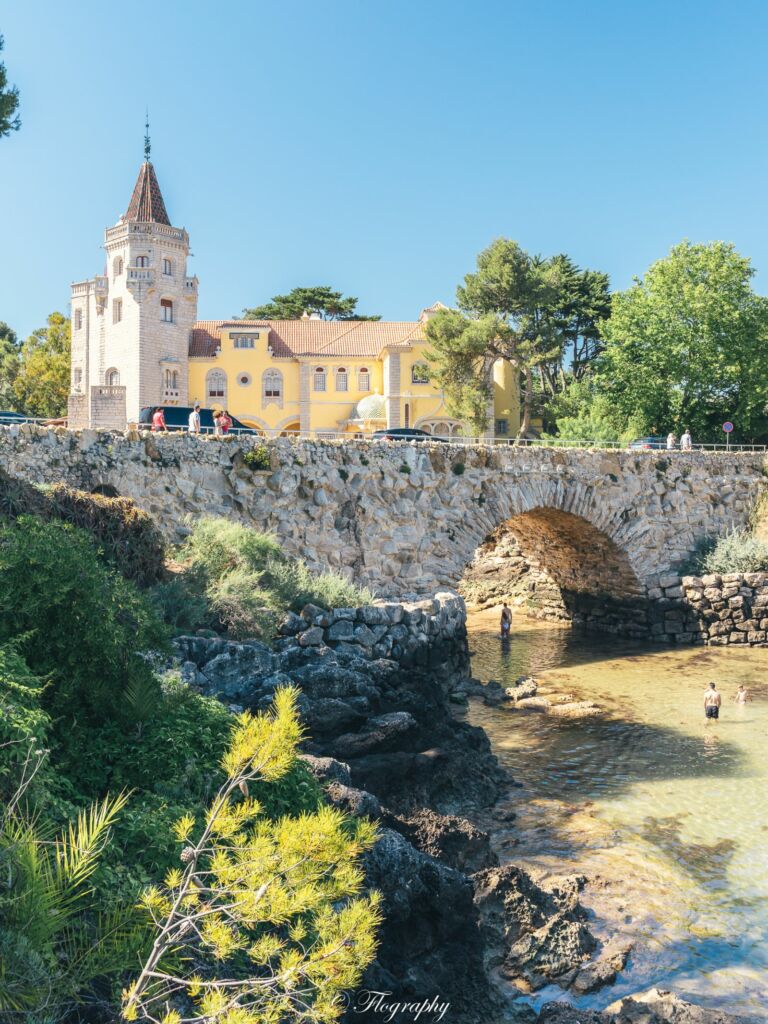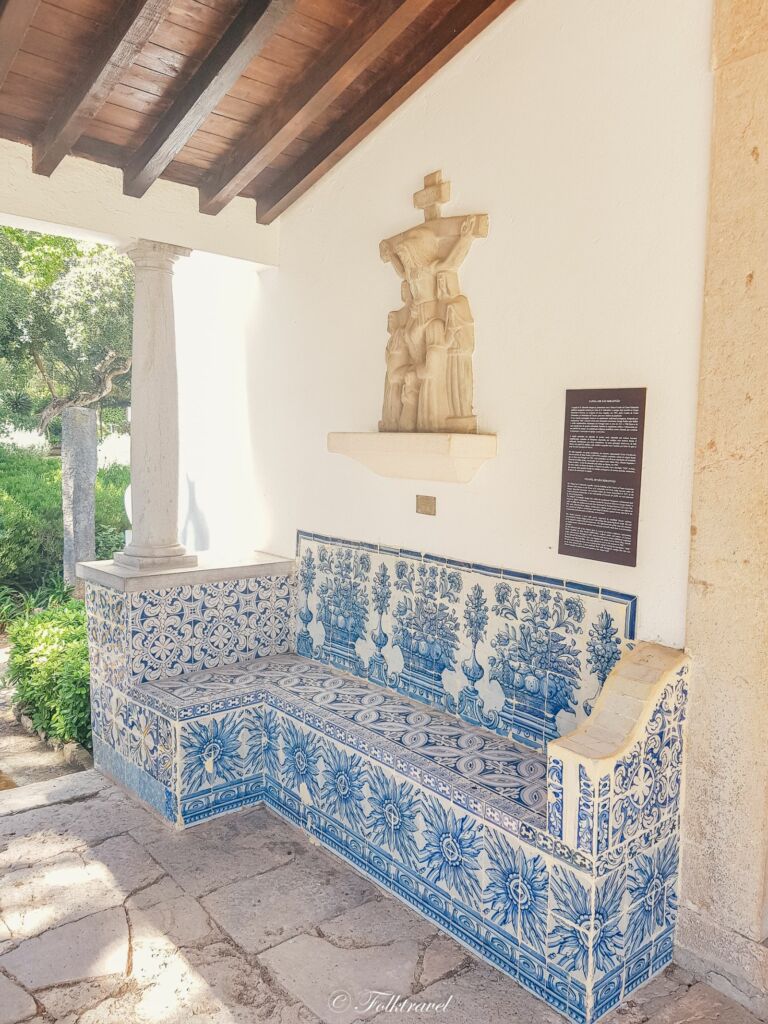 Going to the mouth of hell: Boca do inferno
We were excited about discovering this place and we didn't need more to get there on foot. From the Santa Marta lighthouse we walked along the promenade for 900 meters 10 minutes before arriving at the Boca do Inferno.  It is here that on the edge of the cliffs, the waves come to engulf us, creating a deep and muffled noise as if coming from the bowels of the Earth.  If you wish to take a break, there are many small bars and restaurants as well as a small craft market.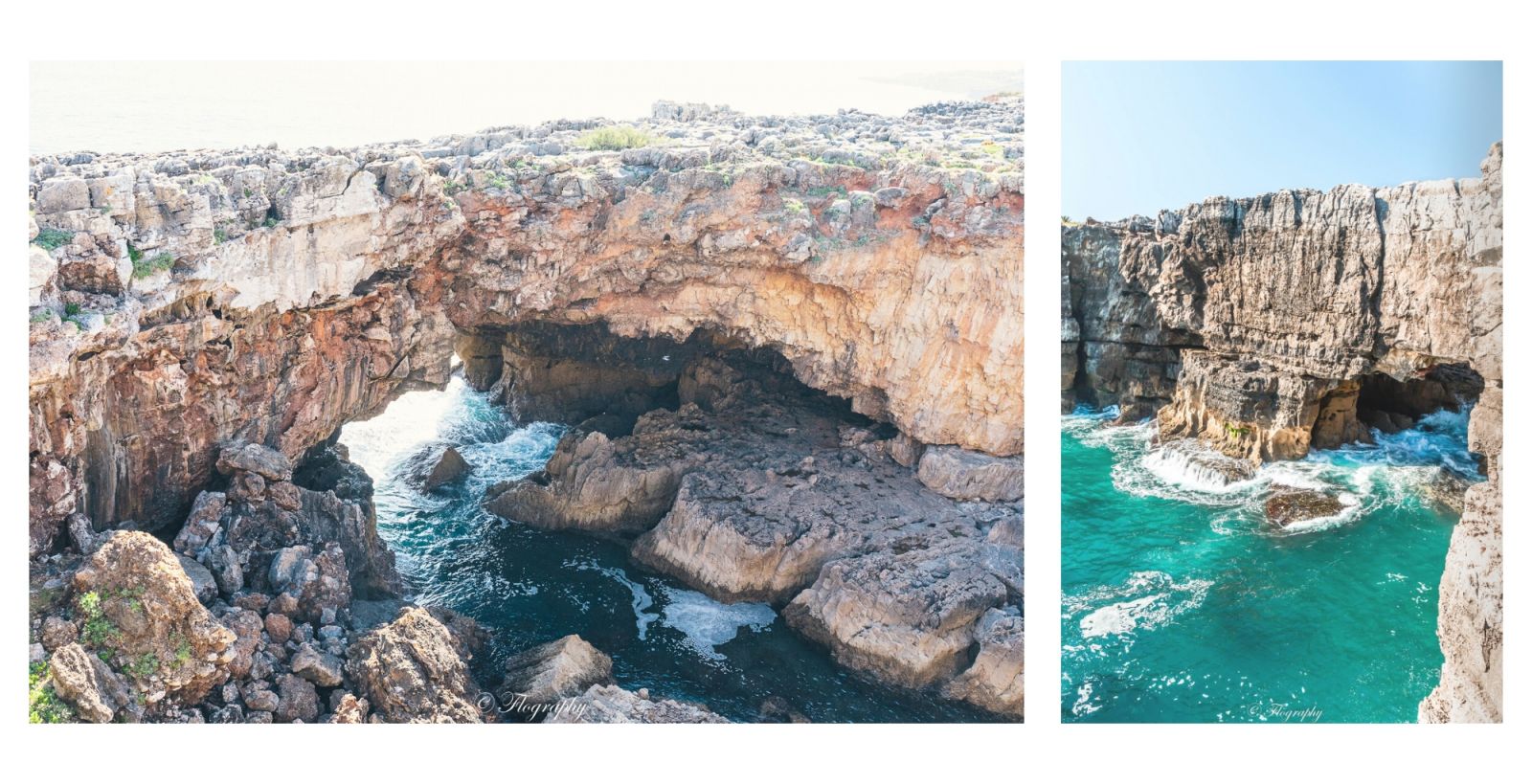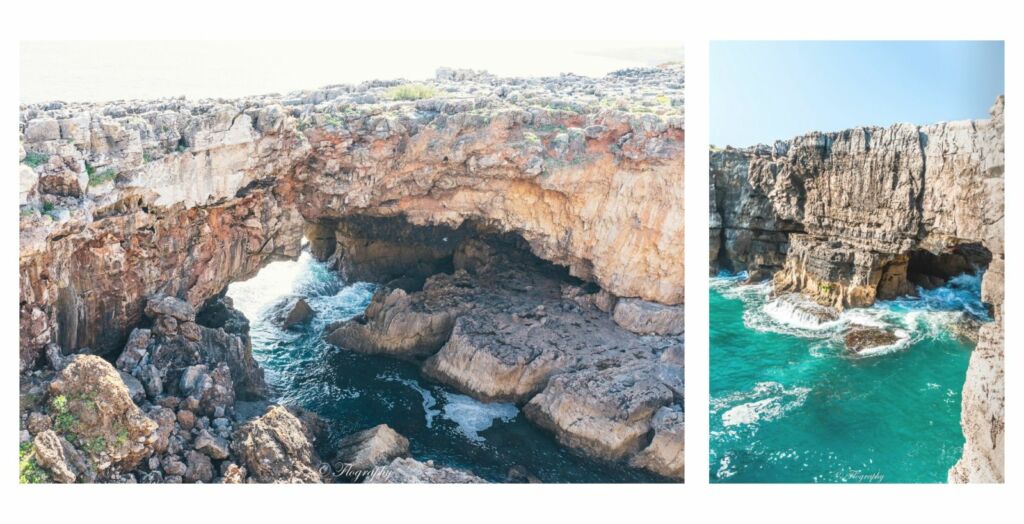 ⛰️ Globetrotters and landscape photographer. We had a passion in common when we met, that of great landscapes.  It was enough for us to travel all over the world in search of the most beautiful photogenic spots. We take time for details, authenticity while remaining natural. Back from our road-trips we reveal our best places.
We take time for details and authenticity while remaining natural. Back from our road-trips we reveal our best places.